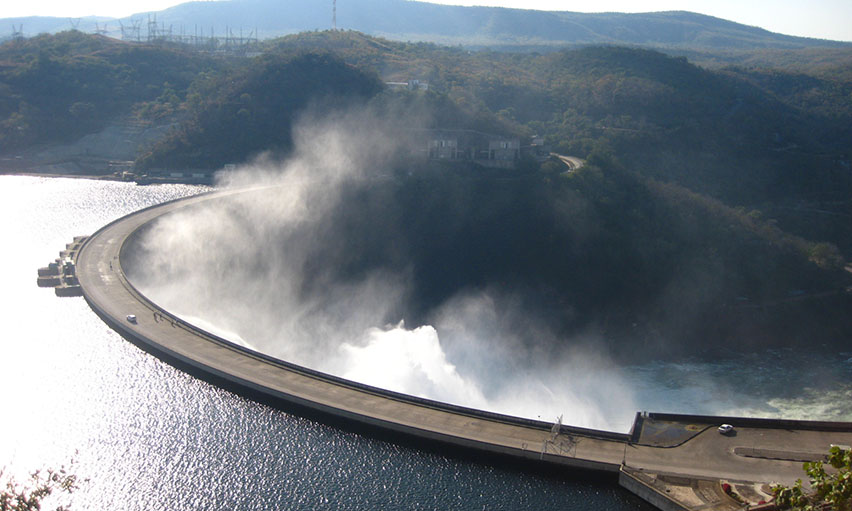 The Zambezi River Authority (ZRA), the bi-national organization managing the Zambezi River on behalf of the Governments of Zambia and Zimbabwe, recently hosted representatives from the African Development Bank (AfDB), the European Union (EU), the Swedish Embassy to Zambia and the World Bank Group (WBG) to finalise preparations in support of the rehabilitation of the Kariba Dam.
The rehabilitation works are estimated to be in excess of US$280 million. The Cooperating Partners have responded to a request from the Governments of Zambia and Zimbabwe to assist with the rehabilitation project. The EU intends to mobilize US$100m while the WBG and AfDB propose to finance US$75m each. The Government of Sweden is considering covering another US$30m, and the balance will be counterpart funds from the Zambezi River Authority.
Speaking at the end of a series of meetings between the Cooperating Partners and officials from the two Governments over the past three weeks, the Zambezi River Authority Chief Executive, Munyaradzi Munodawafa said, "The outcome of the meetings between the two governments and the Cooperating Partners has been successful. A number of issues relating to implementation were discussed which paves the way to ensure the rehabilitation works are adequately funded."
The Kariba Dam and Hydro-Electric Scheme (HES) was constructed across the Zambezi River between 1956 and 1959 and has been central to energy security and supporting economic development in both Zambia and Zimbabwe. After 50 years of operation serving the Southern African Region, the Kariba Dam now requires rehabilitation works for its continued safe operation. A failure to invest in the timely rehabilitation of the dam will result in the gradual degradation of key dam safety features to a level below international standards. Therefore, this rehabilitation project, which represents the culmination of a series of in-depth technical studies over the past few years, is absolutely crucial, and will restore the full safety of the dam.
Also welcoming the conclusions of the evaluation meetings by the Cooperating Partners, the EU Head of Delegation to Zambia, Gilles Hervio confirmed that he was "… pleased with the progress that has been made so far in the preparatory work to ensure that the rehabilitation works are done in a timely manner to avert a power deficit in future. This illustrates the EU's resolve to secure and increase access to electricity in Zambia and the Region with the aim of improving the living conditions of the poor and promoting economic development."
Freddie Kwesiga, the AfDB Country Representative stated "I am impressed with the great team work and sense of urgency by the technical teams of the financing institutions and ZRA. They have shown that working together among Cooperating Partners can achieve greater development results". He added that "the rehabilitation is important in that it will also secure an already constrained generation capacity in the southern African region."
The Country Director of the WBG, Kundhavi Kadiresan, said "We are pleased that the intensive work that the technical teams have been doing in the last few years has finally come together with this program of rehabilitation for the Kariba dam. Reliable power generation is needed to meet the ever increasing demands of the region. The work between Zambia and Zimbabwe on the Kariba rehabilitation has paved the way for further collaboration on harnessing energy sources between the two countries so that transformational changes can be made in the lives of the people in the sub-region."
Lena Nordström, Sweden's Ambassador to Zambia, said that "Access to secure and sustainable energy is a key priority for development cooperation in the country. The consequences of a dam failure would be a serious setback for efforts to reduce poverty and to the impressive economic development of Zambia in recent years, making swift rehabilitation of the dam is the only available course of action."
'End.'
Contacts:
PUBLIC RELATIONS & COMMUNICATIONS:
Elizabeth Karonga, karonga@zaraho.org.zm
Mwaka Simbule, simbule@zaraho.org.zm
Jumbe Ngoma, jjngoma2011@gmail.com
TECHNICAL:
Zambezi River Authority: Munyaradzi C. Munodawafa, Munodawafa@zaraho.org.zm
African Development Bank: Elizabeth Muguti, E.Muguti@afdb.org
Embassy of Sweden to Zambia: Malama Chileshe, malama.chileshe@gov.se
European Union: Samuel Ben-Soussan, Samuel.Ben-Soussan@eeas.europa.eu
World Bank: Marcus Wishart, mwishart@worldbank.org